Spangler's SCRUTINY is a reading comprehension questions and answers game that uses the 4 story elements.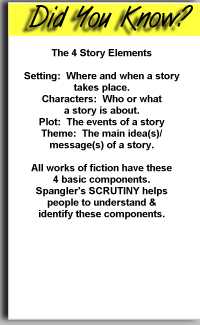 Using only the deck of cards, the "Classic" game is designed to be played like the TV show "Jeopardy"!
A "Classic set" contains 1 set of printable cards that have been downloaded to your e-mail address with setting, character, plot and theme questions & answers based on 1 novel. It also comes with instructions to explain how to best use it with a group of children. PRICE: $10 (shipping and handling included!)
FREE assessment suggestions for use with Spangler's Scrutiny
See the novel choices by clicking here.
All questions and answers were written using Bloom's Taxonomy. Each deck represents nearly every level.

Make reading exciting again with Spangler's SCRUTINY!

Spangler's SCRUTINY is easy to play, easy to understand and tons of fun!

Don't take our word for it...see what others think!

ęCopyright 1999 Elizabeth Spangler